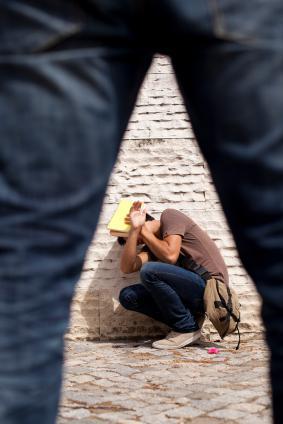 Earlier this month, I read an article about a 33-year-old man who gave his stepfather an "atomic wedgie." When I first saw the title, I had to read it again. I haven't heard someone mention an atomic wedgie since junior high school.
An atomic wedgie is the epitome of physical bullying and involves yanking the underwear of a person out of the back of the pants and up over the person's head. Mostly boys would attempt this feat often without much success.
Unfortunately, in this victim's case the wedgie was so violent that it caused him to die! I didn't even know it was possible to die from wedgie; and I am absolutely horrified that a man lost his life in this way. After all, the atomic wedgie has always been such a childish prank. I couldn't believe that a grown man would be so upset that he would bully his stepfather in this way.
Although the news story doesn't give much background on the perpetrator, I can't help but wonder if this man was a bully when he was a child. After all, he engaged in a classic bullying behavior. And because the man he attacked was his stepfather, how must it make his mother feel?
Learning your child is bully, is usually disconcerting for most parents. But when you actually see the consequences of your child's behavior, in this case death, it is a horrific situation to deal with. My heart goes out to this mother. She has lost her husband at the hands of her own son.
As parents, when it comes to bullying we all want to be more proactive than reactive. For this reason, it's important to give our kids tools that help them avoid bullying others like impulse control, anger management and a sense of self-esteem. It's also important to teach them the importance of being respectful and having empathy.
But if you find that your child is already a bully or a mean girl, then how do you handle that situation? The first course of action is to discipline your child for the bullying. You also need to work with and support the school's disciplinary actions if the bullying occurred at school. And then you need to take steps to be sure the behavior does not repeat itself.
And most importantly, don't lose heart or give up. Early intervention is the key to ending bullying behavior. With persistence and consistency, you can help your child learn not to bully others. For more information on bullying, visit my Bullying page on About.com. You also can connect with me on Facebook and Twitter.